Synopsis
The main character in this story is Adrian, a 26-year-old who, far from wanting to become a successful professional, would rather dedicate his life to making others happy. After several jobs, he finally finds his own place in the messenger company El Rayo Veloz, where he will take advantage of his deliveries in order to help those who have some type of problem he can pick up on correctly. He finds the cure for his loneliness when he comes across a woman to love, after solving a peculiar game of riddles and conundrums. A story which combines humour and mystery and insists on optimism and the transmission of good feelings towards those anonymous people we walk by every day.
<! -- fin referencias --> <! -- fin referencias -->
---
Traducións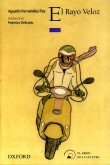 Castellano
ISBN
: 978-84-673-5478-2
Pages
: 96
Editorial
: Planeta-Oxford
Illustrations
: Meixide Andrés
El rayo veloz
El protagonista de esta novela es Adrián, un joven de 26 años que, lejos de querer convertirse en un profesional de éxito, prefiere dedicar su vida a hacer felices a los demás. Tras pasar por múltiples trabajos acaba encontrando su lugar en la empresa de mensajería El Rayo Veloz, donde aprovechará los encargos que se le hacen para ayudar a las personas que tienen alguna dificultad. Pero Adrián también se siente sólo. El remedio a su soledad llega cuando encuentra una mujer a quien amar, después de resolver un curioso juego de adivinanzas y enigmas que la misteriosa mujer le envía.
El Rayo Veloz es un libro donde predomina el humor, un humor mezclado con buenas dosis de misterio. En él se realiza una ácida crítica a algunas de las actitudes presentes en la vida social.