Synopsis
Doctor Nogueira is an eccentric inventor who works in his laboratory in an attempt to eradicate unhappiness from the planet. Because he is ignored and ridiculed by his professional peers, he must work clandestinely with only the help of his assistant, Rosa Novoa, who decides to give testimony to the doctor's investigations so that future generations will know of them.
A novel which deals with a fantastical subject formulated in a humorous tone, with a sharp parody of the codes which govern the present world.
<! -- fin referencias --> <! -- fin referencias -->
---
Traducións
O laboratorio do Doutor Nogueira
O doutor Nogueira é un extravagante inventor que traballa arreo no seu laboratorio para conseguir que a infelicidade desapareza do planeta. Ao ser perseguido e ridiculizado polos seus compañeiros de profesión, debe traballar na clandestinidade coa única axuda da súa axudante, Rosa Novoa, que decide deixar testemuño das investigacións do doutor para que as coñezan as xeracións futuras.
Novela que aborda un tema fantástico formulado en clave de humor, cunha ácida parodia dos códigos que rexen o mundo actual.
El laboratorio del Doctor Nogueira
El doctor Nogueira es un extravagante inventor que trabaja en su laboratorio para conseguir que la infelicidad desaparezca del planeta. Al ser ignorado y ridiculizado por sus compañeros de profesión, debe trabajar en la clandestinidad con la única ayuda de su ayudante, Rosa Novoa, que decide dejar testimonio de las investigaciones del doctor para que las conozcan las generaciones futuras.
Novela que aborda un tema fantástico formulado en clave de humor, con una ácida parodia de los códigos que rigen el mundo actual.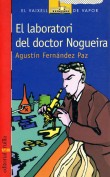 Catalá
ISBN
: 84-661-0033-0
Pages
: 108
Editorial
: Editorial Cruïlla
Illustrations
:
Castañer Rafael
Translator
: Comellas Pere
El laboratori del doctor Nogueira
El doctor Roberto Nogueira, un científic incomprès que oculta la seva identitat veritable per poder treballar lliurement, es dedica en cos i anima a una causa molt noble: lluitar contra els problemes que provoquen la infelicitat de la humanitat. Però, de vegades, des del seu laboratori secret, fa uns plantejaments absolutament equivocats i, aleshores, les seves pro postes benintencionades fan més mal que bé.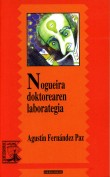 Euskera
ISBN
: 84-8331-576-9
Pages
: 98
Editorial
: Elkar
Illustrations
: Izarra Patricia
Translator
: Elorriaga Unai
Nogueira doktorearen laborategia
Planeta osoko arazo guztiak konpondu nahi ditu Nogueira doktoreak; jendearen zoriona du amets bakarra, eta bere laborategian egindako deskubrimenduak modu diskretuan zabalduko ditu, ez baitu famarik ez dirurik lortu nahi. Gizadiaren historian halako garrantzia izan duen zientzialari hau ezkutuan ez gelditzeko, haren idazkari Rosak kontatuko dizkigu Nogueira doktorearen ekintza txalogarriak. Ala ez dira horren txalogarriak… ?