Synopsis
Raquel is nine years old and lives in the city. One day she goes on a school trip with her class to the "Fragas do Eume" forest. When she returns home, she is surprised to discover that a tiny old being has sneaked into her rucksack. It is Derdrín, a goblin who is more than three hundred years old. He lived in the forest but did not want to spend the winter alone. He tells Raquel that he only needs conversation and very little food. Raquel agrees to put him up in secret and offers him her Barbie caravan to sleep in.
The novel is a chronicle of the months they spend together, during which Derdrín will exert a strong influence over the girl's life, not only with regard to her family but also at school. An affectionate story full of humour, which defends the need for fantasy and also the role of ancient myths in any society.
<! -- fin referencias --> <! -- fin referencias -->
---
Traducións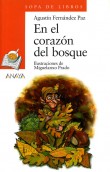 Castellano
ISBN
: 978-84-207-1282-6
Pages
: 144
Editorial
: Anaya
Illustrations
:
Miguelanxo Prado
En el corazón del bosque
Raquel tiene nueve años y vive en la ciudad. Un día va de excursión con su clase al bosque de las Fragas del Eume. De regreso en su casa, descubre atónita que se le ha colado en la mochila un ser extraño y diminuto. Es Derdrín, un trasgo de más de trescientos años, que habitaba en el bosque y no quería pasar el invierno solo. Le dice a la niña que únicamente precisa conversación y algo de comida. Raquel acepta que se convierta en su huésped secreto y le ofrece para dormir la caravana de las barbies.
La novela es la crónica de los meses que pasan juntos, durante los cuales Derdrín ejercerá una influencia muy grande en la vida de la niña, tanto en el ámbito familiar como en la escuela. Una historia tierna y cargada de humor, que reivindica la necesidad de la fantasía y, también, la importante función que cumplen los antiguos mitos en cualquier sociedad.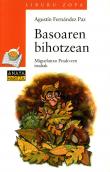 Euskera
ISBN
: 84-667-0508-2
Pages
: 144
Editorial
: Anaya
Illustrations
:
Miguelanxo Prado
Translator
: Chacón Rafael
Basoaren bihotzean
Rakelek ez zuen sekula ahaztuko txango hura: bidaia hura autobusez, baso sakon hura, ibaiko ur bizi haiek, monasterio zahar hura…eta, batez ere, bere motxilaren barruan aurkitu zuen pertsonaia bitxi hura.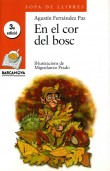 Catalán
ISBN
: 84-489-0970-4
Pages
: 144
Editorial
: Barcanova
Illustrations
:
Miguelanxo Prado
Translator
: Hernández Pau Joan
En el cor del bosc
Aquella excursió va ser inoblidable per a la Raquel: el viatge amb autobús, el bosc immens, les braves aigües del riu, el vell monestir…i, sobretot, el descobriment d'un estrany personatge a l'interior de la seva motxilla.