Synopsis
Banishing childhood fears is sometimes very difficult, above all when there is reason behind them apart from the overactive imagination of a girl. Marina is convinced that the long and dark corridor of her new house is taken by storm by some strange shadows whenever it becomes dark. Nobody in her family believes her, and so Marina sets about getting evidence to prove it. Nevertheless, her mother's resourcefulness brings about the demise of the shadows in the house. Using humour, the author tries to conjure up one of the most common childhood fears in this tale based on an everyday problem: the darkness, always full of threats and dangers. The theme is put forward by means of a simple and determined text, always accompanied by a humorous point of view.
<! -- fin referencias --> <! -- fin referencias -->
---
Traducións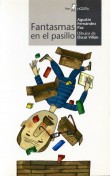 Castellano
ISBN
: 84-96514-61-7
Pages
: 59
Editorial
: Algar
Illustrations
:
Villán Óscar
Translator
: Carreño Albín Soledad
Fantasmas en el pasillo
Desterrar algunos miedos infantiles suele ser complicado, sobre todo si no tienen otra causa que la imaginación inagotable de una niña. Mariña, la protagonista de esta historia, está convencida de que el largo y oscuro pasillo de su casa se encuentra invadido por unas extrañas sombras que durante el día viven en el interior de las paredes, pero que salen de ellas en cuanto llega la noche. Nadie en su familia la cree, por lo que Mariña tendrá que esforzarse en conseguir pruebas que le den la razón.
Con este relato, centrado en un problema del ámbito cotidiano, el autor trata de conjurar uno de los miedos más frecuentes en la infancia: el temor a la oscuridad, siempre poblada de amenazadores peligros. La historia se desarrolla a través de un texto sencillo y bien resuelto, siempre bajo un enfoque en el que predomina el humor.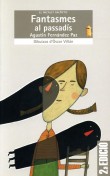 Catalá
ISBN
: 978-84-9824-000-9
Pages
: 59
Editorial
: Edicións Bromera
Illustrations
:
Villán Óscar
Translator
: Franco Martínez Josep
Fantasmes al passadís
Marina sap que al corredor de sa casa hi ha fantasmes. Ella els veu totes les nits quan va al bany, i passa molta por. El problema és que la resta de la familia no la creu. Si poguera fotografiar-los…