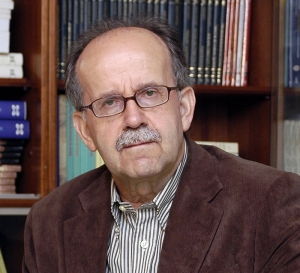 "Porque ese é o destino que desexo para min: ser a Merla Vella que lles fala aos merliños na hora do solpor. Quero aprenderlles os nomes das cousas, contarlles as historias máis fermosas, facelos rir e emocionarse cos meus relatos. Será o meu xeito de descubrirlles todas as marabillas que a vida garda para nós. E así seguirei vivindo durante moito tempo na memoria dos outros."
Agustín Fernández Paz
Agustín Fernández Paz (Vilalba, 1947-Vigo, 2016) is one of the best known and most valued writers in the field of children's and young adults' literature in Galicia and the rest of Spain. He is the author of more than fifty titles mainly aimed at young and adolescent readers. His books, written in Galician, are regularly translated into the other Spanish languages: Castilian, Catalan and Basque. Several titles have also been translated into Portugese, Korean, English, Italian, Bulgarian, Chinese, French and Arabic.
As well as being an industrial machinery inspector, Agustín Fernández Paz was a teacher and has a degree in educational sciences. He worked as a teacher for more than thirty years, in primary and secondary education. Alongside his teaching career, he also developed a range of theoretical and informative activities, centred on themes such as the introduction of communication media in the classroom, reading promotion, the promotion of the Galician language in a bilingual context or the teaching of the language. He had a significant role in the creation of language and literature teaching materials (one of his works, Canles 5, received the Emilia Pardo Bazán National Award for non-sexist textbooks).
Agustín Fernández Paz's books have received numerous prizes, in both the Galician and Spanish fields (Lazarillo, Edebé Juvenil, Barco de Vapor, Merlín, Protagonista Jove, Edebé Infantil, Rañolas, Raíña Lupa, Martiño Sarmiento, Xosé Neira Vilas, among others). He has twice been recognised as the best author of the year (in 2004, by the Galician Booksellers Federation and, in 2007, by the Galician Association of Publishers). On two occasions, he also received the prize for best children´s book of the year, awarded by the Association of Galician Language Writers. In 2008, his book O único que queda é o amor (Nothing Really Matters in Life More Than Love) received the National Children´s and Young Adults´ Literature Award, awarded by the Spanish Ministry for Culture.
In the international field his four nominations for the Astrid Lindgren Memorial Award (in 2008, 2009, 2010 and 2013) stand out. O único que queda é o amor was included on the IBBY Honour List in 2010, as were Contos por palabras ('Stories for Words') in 1992 and Aire Negro ('Black Air') in 2002.
Contos por palabras was considered one of the eleven essential titles in children´s and young adults´ literature of the 20th century by a panel of experts during the first Language and Literature Congress for children and adolescents, held in Santiago, Chile in 2010.
In 2011 in Guadalajara (Mexico) he was awarded the VII SM Iberoamerican Award for Children's and Young Adults' Literature in recognition of his literary career. In addition, the OEPLI agreed to designate him the Spanish candidate for the 2012 Andersen Award.
His books are highly appreciated by young and adolescent readers and they have all been reprinted many times. Some of them, such as Cartas de inverno ('Letters of Winter'), Trece anos de Branca ('Thirteen Years of Blanca') or As fadas verdes ('The Green Fairies') have surpassed the frontier of one hundred thousand copies sold.
Agustín Fernández Paz likes to reiterate, in the words of the Norwegian Jostein Gaarder, his part in an explicit fight to achieve a worthy social status for children´s and young adults' literature. Perhaps that is why he turns as a guide to the words which Alvaro Cunqueiro – one of the greatest and most imaginative writers which Galicia has given to western literature – wrote in 1963:
"The characteristic of a writer is telling clearly, continuously and well. Telling the human totality, which they themselves have an obligation to nourish with new outlooks. And if there's one thing which is clear in this diet is that the person must in the first place, as if it were water, drink dreams."
---
Other versions of the biography of Agustín Fernández Paz
→ I remember (Text of the author about his life)